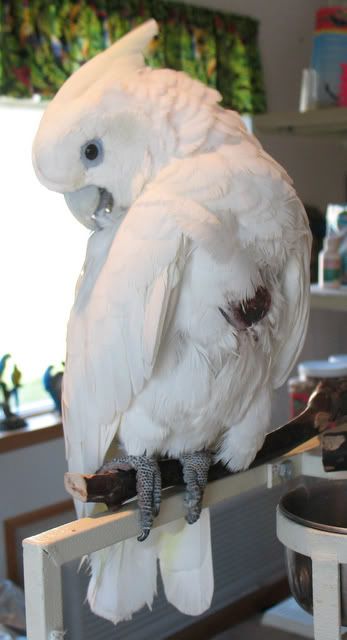 What a difference 2 days makes! Anyone who works with rescue birds knows how resiliant these magnificent creatures are. We expected Mango to make improvements, but the speed surprised and amazed us!
Here she is on Monday, July 30 -- about 48 hours after she was surrendered to us. She has spent much of this time eating, playing with toys, and preening. She is very dusty, which is a sign of good health!
Her vet appointment is scheduled for today at 9:30 in the morning, and we'll let you know how that goes.
She appears to mostly be leaving her chest wound alone. She is very loving and solicits attention from the volunteers. We are all so pleased with how things have been going so far! Here is a short video of her preening herself -- watch how the dust comes off of her.